The page provides a shopping calculator to determine the final or discounted price after the percent off discount is applied. In addition, it allow the double checking of the sale price.

Use this calculator when shopping or purchasing at retail stores, restaurants or online. It can be used when buying clothes, food, groceries, cars, baby goods, homes, toys, electronics, jewelry, books or anything that has a percent based sale. Find the best deals during Black Friday, Cyber Monday and during the Christmas holiday shopping season.
Get this calculator on your Android smart phone or tablet. Scan the QR code below or download from the
Android Market
.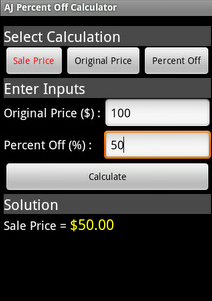 .